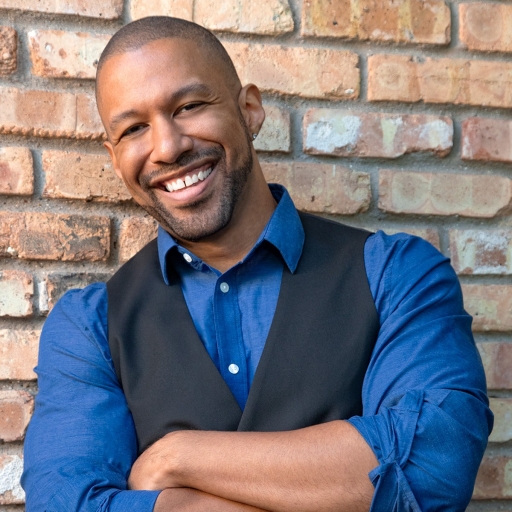 Frederick C. Sanders, Ph.D., MCC
Master Certified Divinity & Performance Coach
What I've discovered is that the greatest fear of most high-performing, creative men of color is mediocrity, failure, and even success itself. They are frustrated with "the system", their communities, their country, and their Christian values they feel, in many ways, have failed them for far too long.

They are challenged by perfectionism, imposter syndrome, and self-sabotage. What they really want is TOTAL FREEDOM. Freedom in their finances, time, energy, and life experiences. Freedom to dream bigger and create larger impacts in the world.

Instead, they think the problem is they are stuck and need to DO more to get to the next level.

So they end up on this auto-pilot hamster wheel of endless, meaningless goal achieving, but the real problem is they are so fixated on all the doing, they are asleep to all the real answers and authoritative power that lie deeper within them.

That's my story… The over-achieving perfectionist. I was on that hamster wheel for nearly 40 years until my entire life was turned upside down in the blink of an eye on September 30, 2019 when I was involved in a car crash! Physically both parties walked away from the wreckage with minimal injuries. However, I was emotionally injured... primarily because I WAS AT FAULT!

I went into deep depression in the weeks following. That perfectionist persona I'd created perished in that crash. I grieved it for weeks… I didn't know who the hell I was anymore… Until I awakened to my own agency to accept the path of the deepest inner work journey of my life. That journey continues to this day…

On this path, I have also awakened to my vision… I envision a world where the highest sense of integrity, agency, and freedom fully emerges among all life on earth.

Over the last 4 years, I have earned certifications in life and executive coaching through Ideal Coaching Global, an International Coaching Federation (ICF) accredited coach training program, specializing in ontological mindful ecological living.

I served as emotional wellness coach for 2 years with Lyra, specializing in CBC (cognitive behavioral coaching). I currently serve as executive and leadership coach for BetterUp, CoachHub, and several smaller, boutique coaching firms. Additionally, I serve as senior staff coach and ICF mentor for my coaching alma mater, Ideal Coaching Global.

In December 2022, I completed my master's and Ph.D. in professional coaching and human development from the International University of Professional Studies. I currently sit in the 2% of elite coaches worldwide who hold the Master Certified Coach (MCC) credential through the ICF.

I believe leadership is doing my own shadow work and traveling deeply within himself first, paving the way for others to do the same. Partnering with me as your coach, we will dive into your deep inner work together. And rest assured, I am doing this deep inner work right along with you.

Coaching is a sacred path of creation… From day one, every session will be a safe space for you to explore your worldview, your thoughts, your beliefs, your values, and your heart identity. To bring new insights and distinctions into the foreground that propel your life forward like never before. To feel ALIVE and THRIVE in the land of possibility as you design and construct your luxury life experience… A life of purpose and presence. A life of freedom and abundance. A life of grace and ease.

To borrow from the words of Neale Donald Walsch… My vow as your coach is to support you in recreating yourself anew in the next golden moment of now, in the next grandest version of the greatest vision ever you held about who are.

Subscribe to the Woken Warriors InsightLetter

Newsletters are obsolete. We have enough "news" coming at us from all directions. However, we could always use more insight. At least once per week, I will release an InsightLetter. They will be brief, concise, and packed with value to supercharge your week.